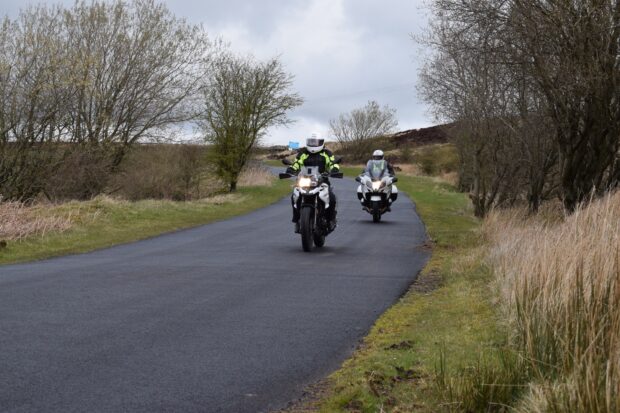 It's been just over a year since we relaunched the DVSA enhanced rider scheme. The scheme is for riders who have passed their motorcycle test or people getting back on their bike after a break.  It gives them some extra training to brush up on their skills.
Where we are now
We've seen a hive of activity since last summer, with 561 motorcyclists taking part in the scheme. There are now over 200 qualified trainers throughout Great Britain, with more in the process of qualifying.
And last week, the Department for Transport reaffirmed its commitment to the scheme in its 2-year road safety statement.
Developing modules
We want the DVSA enhanced rider scheme to be the go-to place for post-test training.
So, after the rider has completed the core modules, we encourage them to pick extra modules to work through with their trainer. These are more targeted to the sort of riding they do – things like riding for work, riding abroad or carrying a passenger.
Over the past year, we've been working on adding new modules to the scheme and improving the syllabus for other modules, so everyone can get the most out of their riding.
Blood bikers
Blood bikers are volunteers who urgently transport donated blood and blood products both to hospitals and air ambulances throughout the UK.
We've worked with the National Association of Blood Bikers (NABB) to further develop the syllabus for riders who want to become one of these volunteers.
This bespoke module is based around all the essential safety areas a blood biker needs to understand. It covers things like urban riding, overtaking and filtering and riding on country roads.
Biker Down
Another extra module we're excited about is the Fire Service's Biker Down program, which is an accident scene management and first aid course.
We'll be working with the fire service to promote this module, as we think it's a vital part of any rider's training.
There's more than just riding on the road
We're currently working on developing ways to signpost riders who have completed the scheme to good training providers who deliver training in different environments, such as track or off-road based skills days.
We want to highlight the benefit of learning new skills in a safe training environment that is completely different from road riding. The machine control skills you can learn will certainly make you a better rider, and it's such a fun way of doing additional training.
We're also working with them to promote the benefits of our scheme to riders who have come to them first, so riders can not only improve their off-road skills but their skills riding on the road too.
Spreading the word with motorcycle trainers
The more trainers who provide the scheme, the bigger impact we can have on making new or returning riders safer on the road.
The rider policy team has been visiting test centres all over the country, to talk to instructors about the benefits of joining the register. Through face-to-face discussions we have been able to show our commitment to the scheme and help instructors understand the qualifying process and talk them through the new syllabus.
We're continuing to hold these events throughout the year so look out for information within your local test centre or sign up for DVSA email alerts. If you cannot get to any of the events, or still have a question, please comment below and we'll get back to you.
Lesson plans
When we relaunched the scheme, a lot of trainers asked us for more resources, like lesson plans.
We're working with our partners at TSO to create these resources. We want this to include lesson planning for instructors, which will be written by other trainers and kept up-to-date by us. ers@dvsa.gov.uk
A new video
And finally, we've created a promotional video aimed at riders, highlighting just some of the benefits of taking the scheme! You can watch it below.
I'd encourage you to share this on your website and social media platforms as well as showing to riders who might be interested in the scheme. We hope it will give them an idea of what the scheme covers and why it might benefit their riding.
Updating your information
The service to find a DVSA enhanced rider scheme on GOV.UK is visited around 600 times every month. It's really important that your details are up to date so riders can contact you. So please take a few minutes to check your information. If you need to change anything, such as your email or website address, email the details to ers@dvsa.gov.uk and we'll update your record.
Become a trainer
If you aren't already an enhanced rider scheme trainer, you can find out more about becoming a trainer on GOV.UK.
Reusing our videos

Our videos are protected by Crown copyright, and the Standard YouTube Licence. You're not allowed to download (either permanently or temporarily) and reupload them to your own social media, or copy, store, or redistribute them. However, you're free to link to them, and embed them in your own website.