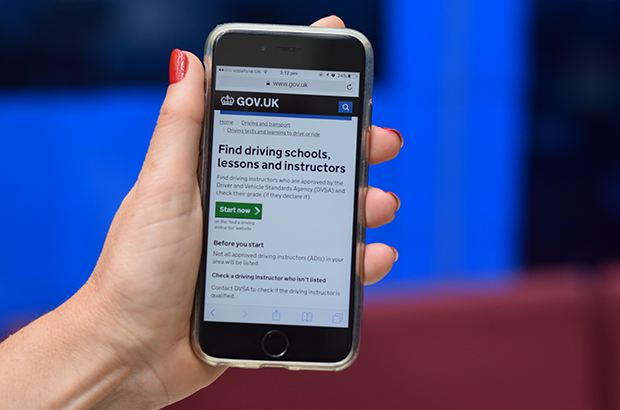 To help learner drivers make an informed decision about who teaches them, we've made some improvements to the 'find your nearest driving instructor' service.
We want to make sure that all learner drivers have the information they need to become a safe and responsible driver before they start driving lessons. This will help them through a lifetime of safe driving.
The improvements we've made also give you an opportunity to promote yourself to learner drivers and their parents, from an official source.
Making GOV.UK the first stop for learner drivers
Around 10,000 people use our service to find driving instructors every week.

Over the summer, we'll start to:
encourage more learner drivers to use it
do more to explain the benefits of choosing a DVSA approved driving instructor
Link to your website for detailed information
You can now add a link to your website (including a Facebook page, if you don't have a separate website) to the service. This will show in the search results, along with your other contact details.
This will let you give learner drivers more detailed information on the services you provide – whether that's if you provide manual or automatic lessons, your prices, and any services you offer for pupils with a disability, health condition or learning difficulty.
These are all things that learner drivers who have used the service have told us they want to see.
Add their websites on. And working pattern so I don't have to email everyone to find out when they work etc.
By telling you if they do manual or automatic driving lessons.
More info on instructors... to save time on emailing,calling or texting instructors.
Offer an idea to prices and more about the service.
Saying the driving lesson price.
I'm looking for an automatic driving instructor, would be helpful if it said if they were manual or automatic.
Helping learners find the right instructor
We've also made it easier for learner drivers to filter their search results, so they can just see instructors who have:
By filtering their search results, learner drivers can see which instructors meet their criteria. So, I'd encourage you to make sure you've ticked the boxes for the code of practice and CPD and have agreed for DVSA to publish your standards check grade.
How to add or update your details
Sign in to update your ADI registration.
Answer 'Yes' to 'Would you like us to publish your main telephone number and email address on our website?'
Add the link to your website or Facebook page.
Tick the box to show you're committed to a minimum period of CPD per year.
Tick the box to show that you follow the ADI code of practice.
Tick the box to publish your latest standards check grade and score.
Any updates you make will take place overnight - so you can see them on the service the next day.
You can opt back out of the service at any time.
If you haven't had a new standards check grade yet, your previous check test grade will be shown. If someone clicks on your grade, they'll see an explanation of what your grade means. If you failed your most recent standards check, it will show as 'FAIL'.
It's also worth taking the opportunity to check that all your contact details are up to date. So I encourage you to put a few minutes aside to sign in and check.
We'll continue improving the service based on the feedback we receive.
Make sure you're signed up for email alerts, or follow us on Twitter and Facebook for the latest updates about the service.