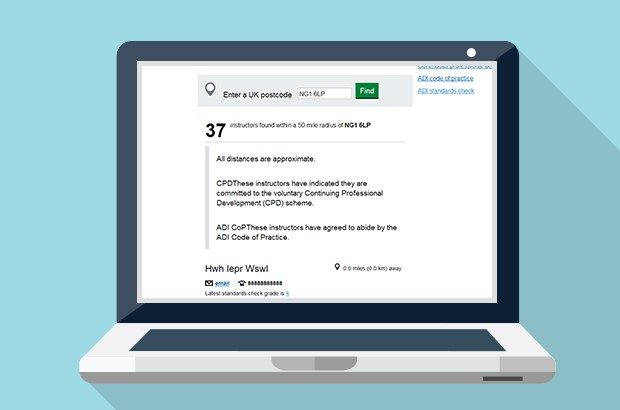 From today (Thursday 28 July 2016), you can opt-in to display your standards check grade on the 'find your nearest driving instructor' service on GOV.UK.
We want consumers to be able to make a more informed choice when they choose a driving instructor.
The 'find your nearest driving instructor' service was officially launched in July 2011. Since then, over 27,000 ADIs have signed up to appear on the service – around 67% of all ADIs on the register.
The use of this service among consumers has been steadily increasing too. It was viewed around 760 times a day in March 2017. This graph shows how this has increased over time.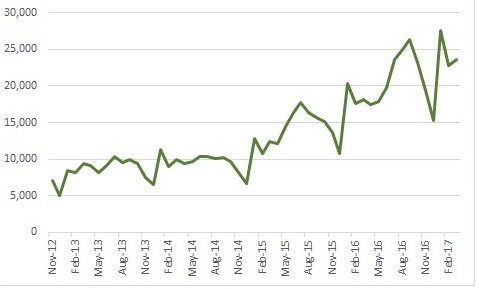 What the service can display
The service displays your name, email, and phone number to learner drivers looking for driving lessons. It will also display if you've:
From today, you can choose whether or not you want your latest standards check grade to be displayed. It won't appear until you update your profile to say that you want it to be published.
If you opt in, both your grade and standards check score will be published. If you haven't had a new standards check grade yet, your previous check test grade will be shown.
When a user hovers over your grade, they'll see an explanation of what your grade means. If you failed a standards check, it will show as 'FAIL'.
You can also opt back out at any time.
The benefits of displaying a commitment to CPD and the ADI code of practice
Choosing to display such information will help you to market your business more effectively to potential consumers; so that they can make a more informed choice before starting the learning process.
Committing to CPD is voluntary. It can help you keep your skills up to date, and you can choose how you do it – from developing your business skills and attending formal courses, to attending local or national meetings or seminars.
Choosing to show that you're adhering to the voluntary ADI code of practice lets consumers see that you've agreed to operate within an agreed framework.
How to update your profile
Go to the service to update your ADI registration
Sign in with your user ID and password.
Tick the box to show you are committed to a minimum period of CPD per year (optional).
Tick the box to show that you agree to abide by the ADI Code of Practice (optional).
Tick the box if you would like your latest standards check grade published (optional).

The updates to your details will take place overnight and display the following day.
We'll be raising awareness with learner drivers about this after a few weeks, so that you have time to opt-in first.
To stay up to date: