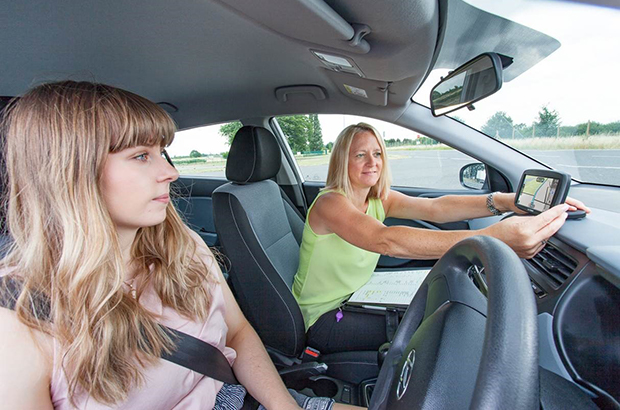 In January, Lesley Young shared some early findings of the changes to the test with you. If you missed this blog post, I'd recommend that you go back and read it.
Lesley gave some really good advice on making sure your pupils are using a sat nav effectively during their test. She also stressed the importance of making sure your pupils can safely operate controls on the move.
It's now 6 months after the driving test changed and the latest driver and rider testing statistics have been published today (Thursday 28 June 2018). So, I thought it was a good opportunity to share the early impact of the changes with you and give some advice on how you can better prepare your pupils.
Driving test pass rate
The new test was designed to be more reflective of real life driving and situations new drivers will face once they've passed their test. Better assessing these skills during the test will help drivers stay safer on our roads.
There's only been a small reduction of 1.4 percentage points (45.4%) compared to last year (46.8%). We expect this to increase once candidates and instructors become more familiar with the new test and how it's conducted.
We'll continue to monitor the impact of the changes to the test by surveying new drivers 6 months after passing their test, and by reviewing the road casualty statistics and driving test statistics.
I'd like to thank you for all your hard work in making sure you and your pupils were prepared for the test changes and responding well to the new challenges presented as part of the test.
Top 5 serious driving test faults
Despite the changes to the driving test, you'll be interested to hear that the top 5 reasons for failing a driving test have not changed. I thought it'd be useful to give you some advice on how your pupils can avoid these.
Observations at junctions
During the test, your pupils will get a serious fault if they aren't taking effective observations before emerging at junctions and emerge into the path of other vehicles. You should remind your pupils to look both ways to make sure it's safe before proceeding.
Mirrors before changing direction
Another common fault pupils make is not remembering to use their mirrors, or only checking one of them. You should remind your pupils of the importance of always checking their mirrors effectively before doing things like changing lanes, signalling or increasing or decreasing speed. This is a simple mistake that can be easily prevented.
Moving off safely
Similarly, when your pupils are moving off from the side of the road, they need to make sure they look around, check their blind spots and indicate correctly.
Control when steering
Your pupils need to be able to maintain a steady course in normal driving during the test. Things like mounting the kerb while driving, or not following the contour of the kerb results in faults in this area.
Turning right at junctions
When approaching a junction and turning right, it's important your pupils position their vehicle correctly. The vehicle shouldn't cut the corner when turning right. Your pupils should also watch out for cyclists and motorcyclists, and any pedestrians crossing the road.
Driving test timing study
In 2016, we carried out a timing study of the new test to make sure it fitted into the current test slot. The report found the test was slightly longer than before, so we committed to carrying out another timing study once our examiners were more familiar with the test and equipment.
This will help us make sure the driving test continues to be as efficient and effective as possible.
So, from 16 July 2018, we'll be carrying out a further timing study in around a third of our driving test centres across Great Britain. This will last for around 3 to 4 months.
Trained driving examiners will work in a team to monitor the overall time taken to conduct the test, and this might mean they sit in on some tests at your local test centre.
The aim of the study is to measure the overall time taken to conduct the test. I'd like to reassure you there won't be any extra scrutiny of your pupils, but you might want to let them know they might have another examiner in the car during their test.
I hope you've found this blog post useful and I'd encourage you to talk to your pupils about the top 5 serious driving test faults and what they can do to avoid them.
Make sure you're signed up for email alerts or follow us on Twitter and Facebook for the latest updates.