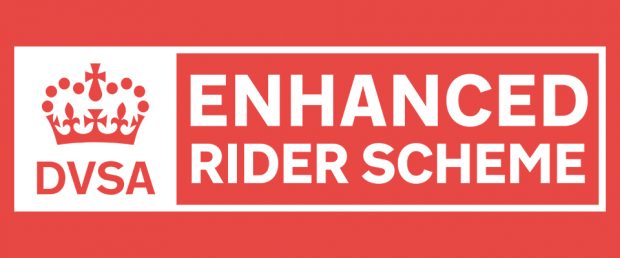 I'm Chris Parr, an Assistant Chief Driving Examiner in the Driver and Rider Policy team at DVSA. I've been lucky enough to be involved in all things motorcycle for most of my 19 years with DVSA.
I've covered everything from being a driving examiner and bike examiner, a Cardington trainer, CBT and DAS assessor through to my current role in rider policy.
Over the past year, I've been working on relaunching DVSA's enhanced rider scheme. This is for riders who have passed their motorcycle test and want to do some extra training to brush up on their skills.
I want to tell you about the work we've done to update the scheme and how you can take part.
Why we've updated the scheme
The original enhanced rider scheme was designed more than 10 years ago.
Our purpose at DVSA is to help you stay safe on Britain's roads, and we're determined to make sure riders have the skills they need to help them through a lifetime of safe riding.
To do this, we needed to make sure the scheme was still providing the right guidance and support to riders.
The original scheme was aimed at experienced riders who wanted to refresh their skills, after taking a break from riding. This is still important and something we encourage anyone who hasn't ridden for a while to do.
But, we also want to help newly qualified riders. They might not be as confident on the road, and some more expert advice could really help them get more out of their riding.
Listening to your feedback
We knew we couldn't refresh the scheme without help, so we set up meetings with the Motorcycle Industry Association and current enhanced rider scheme trainers. We wanted to hear what they thought worked well and what we could improve.
They all agreed it was important DVSA offer a post-test scheme for riders. But they did tell us that:
it wasn't obvious the old scheme was supported by the government
the old syllabus was too broad and offered too many options
riders weren't always sure what the scheme was offering and who was delivering it
A new name for the scheme
To make it clearer that the scheme is supported by the government, we're now calling it the 'DVSA enhanced rider scheme'.
To provide training for the scheme, trainers previously joined the 'register of post-test motorcycle trainers' or 'RPMT'. It's confusing to have a separate name for the register of trainers, so we're stopping using that name.
From now, post-test trainers for enhanced rider scheme will be called 'DVSA enhanced rider scheme trainer'. It also means there's one less acronym to remember!
New branding
Another way we've made it clearer the scheme is supported by the government is by creating new logos for trainers to use on their websites or social media.
The new branding is bold and simple and looks trustworthy and official. Riders will be more confident who is providing their post-test training and what to expect.
We've also created posters and leaflets for motorcycle test centres with the same logo on.
A new syllabus
 As the old syllabus was too broad, we've adapted this into core modules and additional modules.
The core modules will make sure the rider is tested on the essential skills they need to keep them safe while riding. This includes things like:
overtaking and filtering
bends and corners
slow control
The trainer and rider can then discuss what extra modules the rider can do, that's specific to the skills the rider wants to learn or improve. This could be things like carrying a passenger or load, or even things like off-road riding.
We want the experience of post-test training to be enjoyable and fun for the rider and for the trainer. Being able to choose the different extra modules will help the rider get the most out of their training and learn the skills important to them.
Becoming a DVSA enhanced rider scheme trainer
If this sounds like the type of training you'd like to give, the great news is, you can!
You can become a DVSA enhanced rider scheme trainer if you've had a full category A or A2 motorcycle license for at least 3years.
You can find out how to qualify and what's involved on GOV.UK.
A big thank you
Finally, I want to thank everyone involved in developing the scheme.
Feedback from trainers and the motorcycle groups has been essential to design a new scheme that works well for trainers and helps keep riders safer on the roads.
We'll keep the new scheme under review and your thoughts and feedback on this are always helpful.
We've also published a news story to encourage riders to take part in the scheme. So, if you're interested in brushing up your skills, have a look.