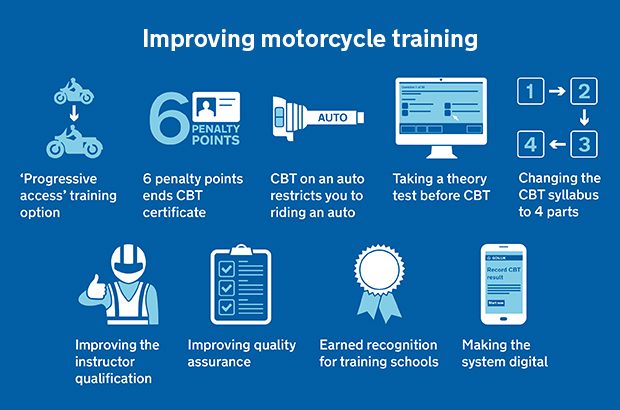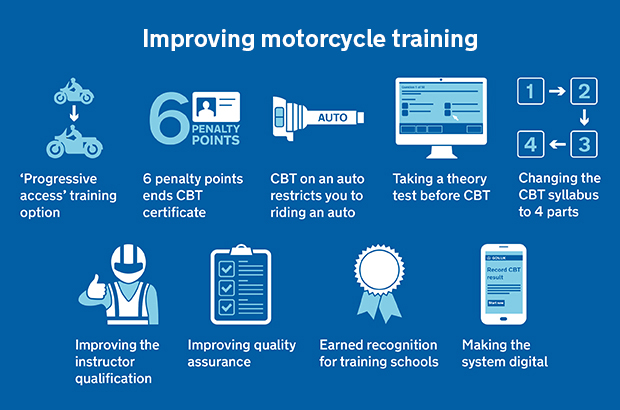 At the end of December 2016, I took a detailed look at our proposals to improve moped and motorcycle training. Since then, we've received 1,690 responses to the consultation.
It's also generated a lot of discussion on Despatch and social media.
With one week to go until the consultation ends, I thought it would be useful to talk about some of the most common themes that have been discussed.
The cost and complexity of getting a licence
We've heard from some people that these proposals will increase the cost and complexity of getting a motorcycle licence.
This is absolutely the last thing we want to do.
We'll carefully weigh up the cost of making any of the proposed changes. We should be able to make many of them without increasing costs to riders and trainers. Some could even save trainers money.
Theory training
Some comments have suggested that more theory education would also be appropriate. This idea was identified in previous research into compulsory basic training (CBT).
In the consultation, we're asking for views on suggestions that either require learner riders to:
pass a theory test (multiple-choice questions and hazard perception) before taking CBT
have their theoretical knowledge tested by the instructor, as part of the CBT course
How CBT courses work and what they include
We've been asked if bikers can receive tuition on filtering and whether we would add this to the current training.
The consultation includes a question about including filtering in the theory part of the CBT syllabus.
Some people have asked if there could be compulsory testing after a period of CBT certification.
We did consider limiting the length of time a CBT certificate is valid for, but decided that it would affect too many people. It would also increase the costs of motorcycling for a significant number of people, which we don't want to do.
Retaking CBT if you get 6 penalty points
We want your views on the subject of riders who get 6 or more points having their CBT revoked. This would mean retaking their CBT before we would allow them to ride unaccompanied.
Some comments have suggested that the court should have the power to make a rider retake their CBT instead of it being automatically revoked. We'd have to think about this one carefully. Giving courts the power to make a rider to retake their CBT may be more complicated than revoking it.
Some people have also asked whether the number of CBT riders who get 6 points justify the proposed changes. We hope the consultation will help us answer this question.
Post-test training
Some people have asked how our proposals to improve training fit in with the enhanced rider scheme. We aren't looking at post-test training in this consultation - at the moment we're focussing on CBT and pre-test training.
However, we know that there's more to do with the enhanced rider scheme. We've started talking to post-test trainers to develop options for improving this.
Training and testing for car drivers
Some people have commented that all learner drivers should have to take CBT course. We've considered this suggestion before, but it would be costly to introduce and there aren't enough motorcycle instructors to do all the extra courses.
Some people have suggested that car drivers should have the same power restrictions and progressive training for licences.
The position for motorcycle licences comes from an EU Directive, and the government has no plans to limit the engine capacity that young or novice car drivers are able to drive.
We're instead doing work to investigate what behavioural, technological and educational interventions are most likely to have a positive road safety benefit for young car drivers.
Don't miss out on giving your views
The most important thing that you can do at this point is respond to the consultation and give your views.
Do take another look back at my last blog post where I looked at each proposal in turn if you need more information.
Fill in the consultation response form by 11:45pm on 17 February 2017.