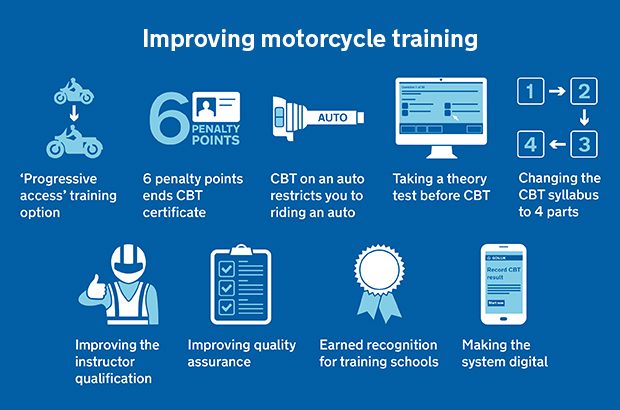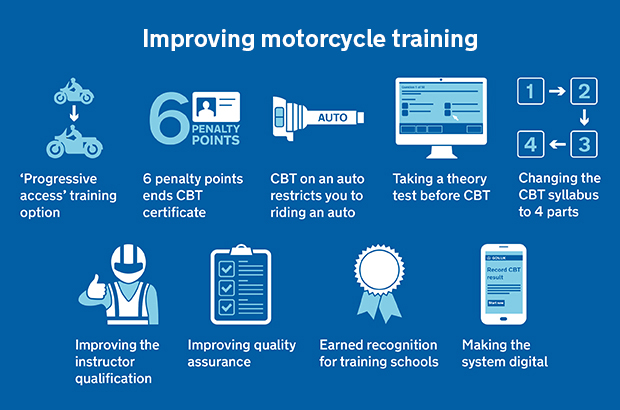 We've launched a consultation today (30 December 2016) on proposals to improve the way that motorcycle training works in Great Britain.
I want to explain more about the proposals, and what they might mean to you and your pupils.
This post is a little longer than usual, but I thought it would be helpful to look at each of the proposals in turn.

1. Improving the instructor qualification process


A single assessment for instructors
We're proposing that we replace the current compulsory basic training (CBT) and direct access scheme (DAS) instructor assessments with a single assessment. Instructors would be able to provide training for all categories of motorcycle after passing it.
Having a single assessment may also allow us to offer regional assessments in the future, rather than just at Cardington.
If you're an existing down-trained instructor, you'd be allowed to continue providing CBT for a time. We'd decide the time limit after the consultation.
An assessment to be allowed to down-train instructors
We're proposing to offer a bespoke half-day assessment for instructors who want to down-train other instructors.
If you're already a DVSA-assessed instructor, you'd be allowed to continue down-training without taking the new assessment. We may need to review if we put a time limit on this.
An assessment for down-trained instructors
Currently, down-trained instructors can provide CBT instruction for the 4 years that their instructor certificate is valid. They can renew it, providing that they meet the relevant requirements and criteria.
We're proposing to reduce the length of time down-trained instructors can provide training. After this period had passed, they'd need to pass the formal motorcycle instructor assessment.
They'd then be qualified to provide CBT, DAS and other types of training.
We'd like your views on how long down-trained instructors should be allowed to provide training for before having to take the assessment.

2. Changing the CBT syllabus


From 5 parts to 4
The CBT syllabus has remained largely the same since it was introduced in 1990. We think it's time to update the syllabus to better prepare riders for the realities of riding on modern roads.
The current syllabus has 5 elements. We're proposing to merge 2 of these (element B - practical on-site training, and element C - practical on-site riding) into one element. This would allow more flexible on-site training.
Renewed focus on equipment and clothing
The CBT syllabus includes the importance of having the right equipment and clothing. You encourage your pupils to wear the best protective motorcycle gear they can afford, but some don't follow your advice.
So, we're proposing to introduce requirements for:
trainess to wear suitable clothing and equipment
instructors to make sure trainees are appropriately dressed
Steering and filtering
We're also proposing that:
steering is taught as a specific skill, both in the theory and practical elements
filtering is included in the theory element of the syllabus
We're also interested in any other ideas that you have for improving the CBT syllabus.

3. Improving quality assurance of training


Quality assurance of all road-based training
We currently carry out quality assurance and compliance checks on instructors providing CBT courses.
We're proposing to introduce mandatory quality assurance checks for instructors who provide any road-based motorcycle instruction – not just CBT. This would provide assurance that all training is being provided to the required standard.
Failing a standards check
We're also proposing that an instructor who fails a standards check would have up to 2 more attempts to reach the standard.
If they failed those further attempts, they'd need to pass the motorcycle instructor qualification assessment before they could provide training again.

4. Introducing a 'progressive access' training course to upgrade a licence


Progressive access training course
Riders aged 24 and over can qualify directly for the most powerful motorcycles by passing a theory and practical test.
Younger riders can progress in stages to the most powerful motorcycles. They take a test on a lower category motorcycle then, after 2 years, they can take another practical test on a higher category.  This is called 'progressive access'.
It allows riders to progress to the most powerful category of motorcycle by the age of 21, rather than 24.
Under European legislation, we can introduce an option for motorcyclists to take extra training to ride larger motorcycles, without the need to take a further test. This training would need to:
cover the same elements as the practical test
last at least 7 hours
We're proposing to introduce this option, with training courses being provided by approved training bodies (ATBs). That's why it's important that we start to quality assure all road-based training, not just CBT.
Instructors who could provide training
We're proposing that all existing DAS qualified instructors would be eligible to provide the training.

5. Restrict learner riders to automatic motorcycles when used for CBT


At the moment, learner riders who take CBT on an automatic motorcycle can ride an automatic or manual motorcycle.
This has road safety implications - the skills you need to ride a manual motorcycle are different from those you need for an automatic motorcycle.
We're proposing that learners who take CBT on an automatic motorcycle will only be allowed to ride an automatic. Learners who take CBT on a manual motorcycle would still be allowed to ride both.
We'll also need to consider how a rider with an automatic restriction could progress to riding a manual motorcycle.

6. Getting 6 penalty points ends a CBT certificate


As you know, CBT certificates are valid for 2 years. We're proposing that CBT certificates should be revoked if the learner rider gets 6 penalty points during that time.
They'd need to successfully complete another CBT course before they were allowed to ride again.
This would be consistent with what happens to new riders who have a full motorcycle licence under the New Drivers Act.

7. Digital platform for CBT administration


We intend to look at the options to turn CBT from a paper-based system into a digital service. This would allow us to do things like:
issue a certificate immediately and update the rider's driving licence
send out reminders to riders when their CBT certificate is due to expire, reducing the risk of them riding uninsured
The manual returns that ATBs currently complete would be replaced by electronic records.

8. Theory test before CBT


Understanding the rules of the road and potential hazards
We want your views on how we can make sure that learner riders get the right understanding of the rules of the road and the potential hazards that they might encounter, before riding independently.
Theory test before the CBT course
One suggestion is to require all learner riders to pass a theory test (multiple-choice questions and hazard perception) before taking CBT. This:
would make sure learners have a better theoretical knowledge
could encourage more learners to take the practical test, rather than riding as a learner on a CBT certificate, as they're already one step closer to a full licence
However, it may put some off taking CBT. It could also conflict with theory and hazard perception training taking place in conjunction with practical training.
Theory tested as part of the CBT course
Another suggestion is that learners should have their theoretical knowledge tested by the instructor, as part of the CBT course.
This could be done by making the theory element of the CBT syllabus include a requirement to 'know and understand' the relevant theory topics in the syllabus.
This could be assessed using a short theory test as part of the CBT course, or the instructor validating the training.

9. Earned recognition for training bodies


We'd like to consider the benefits of an 'earned recognition' scheme. This would recognise the ATBs whose instructors consistently achieve high standards.
However, we need to identify:
the criteria for gaining 'earned recognition'
the benefits that could be made available to those who get 'earned recognition'
For example, we could highlight them on the 'find a moped or motorcycle CBT course' on GOV.UK.
Give your views
I'd really like you to take time to reflect on these proposals, and let us know what you think.
The consultation document has more detail about the proposals. Let us know in the comments if there's anything you need more information about.
Clearly, nearly all of these proposals will need changes to legislation. If the proposals are supported, it will take longer to make some changes than others. We'll keep you updated after the consultation has closed through this blog.
Like you, we want to help every rider through a lifetime of safe riding. We think that these proposals will help to do that.
Fill in the consultation response form by 17 February 2017.