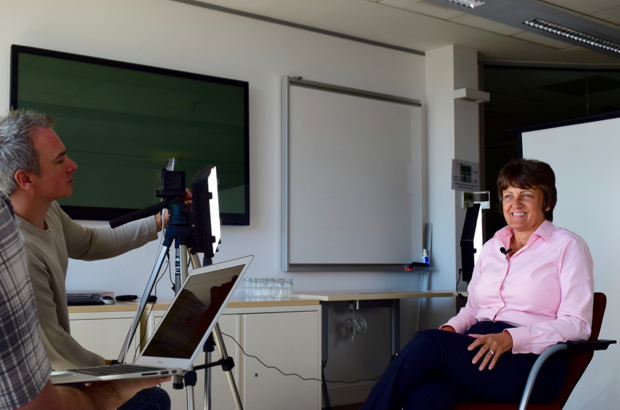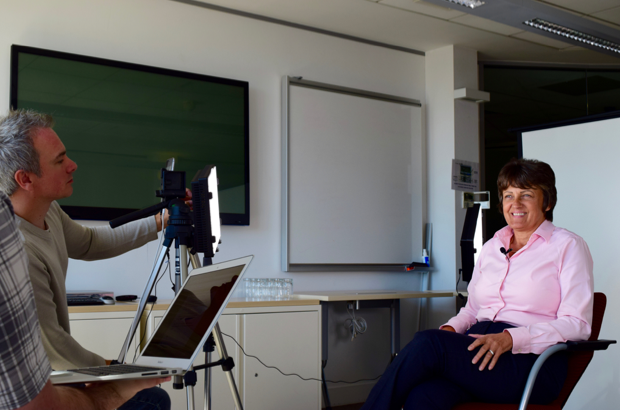 Lesley Young, Chief Driving Examiner at DVSA, answered your questions live on Periscope about improving the car driving test on Friday 12 August 2016.
Transcript
Liz:
Thank you for joining us for this live video interview with Lesley Young, Chief Driving Examiner. My name is Liz, and I'm your host for today.
And Lesley, thank you for your time. Would you like to say hello to the internet?
Lesley:
Thank you for everybody who's joining us today.
Liz:
This is the first time that we've tried a Periscope live video, so please do bear with us if you're tuning in.
Lesley, while people are still joining us, could you just take a minute to explain what the main proposals are, and why this is so important?
Lesley:
Ok, so there are pretty much 4 main proposals. One is to extend the independent driving and make use of satellite navigation. The other is to do some changes to the manoeuvres that we're asking candidates to do. We're also going to ask some questions about operation of controls on the move. And generally experience a more.. a drive that takes candidates into more challenging environments and more real-life driving, rather than focusing on backroads and side streets.
Liz:
Ok, thanks. We'll move on to the questions now from ADIs. If you're watching live via the Periscope app, you can also start to ask your questions.
Neil has asked, by changing the independent drive to following a sat nav, aren't you doing away with it all together? Is it just another voice giving the candidate direction, rather than making sure the learner driver is looking out for all road signs?
Lesley:
Ok, so first of all, we are using satellite navigation as an alternative to road signs, not instead of. So a certain number of candidates will still be asked to follow road signs, so that will mean that they need to receive training in both areas.
The issue about hearing directions from a sat nav, is a realistic environment, so the examiner will be watching the candidate as if they were driving completely on their own. I mean, to receive instructions on a junction-by-junction process like we currently do during the test is not very realistic at all.
Liz:
Thank you. Jackie's asked, does the proposed new sat nav part of the test have accommodation for hearing impaired people or those whose first language is not English.
Lesley:
Ok, so I think we obviously considered those candidates with special needs, and we did have representation from the British Deaf Association, and one of their people came to take the test as we proposed and found it a far better way to conduct... to experience the driving test than trying to deal with hand signs or try and hear anything the examiner might say to them. So they're very used to a visual interpretation and clearly they would be doing that when they drive on their own, so they were entirely happy with those proposals.
In terms of language, as you know we don't offer tests in any other language today, but I think it can only serve to assist those that it isn't their first language, because again, they will have a visual representation of where they're being asked to go.
Liz:
Thanks. Steven asked, why do we seem to be promoting practices that go against advice in Highway Code rule 239 about parking against the flow of traffic?
Lesley:
This, to be fair, has had some controversy associated with it, but I think it's important that it is a high-risk manoeuvre, and that candidates should appreciate that it is and know how to deal with it - and that includes whether it be daylight or evening.
It isn't best practice, but none the less, it is a manoeuvre that is commonly required. You often see it where there are local shops on one side of the road and there's no facility to park on the other. You also… from delivery drivers do it all the time - we've all seen our postman, our food delivery people - all that - have to… don't have to, but indeed do do that manoeuvre and it's far better that they're trained deal with risks associated with it, than leave it to good fortune once they've gained their licence.
Liz:
Ok. John's asked, will the new test include turning the vehicle round in a confined space in the safest possible manner?
Lesley:
In essence, yes, because if you're asked to drive forward into a parking space and reverse out, then indeed it necessitates the same skills it would to do a turn-in-the-road. Those that have experienced the new test under the trial we've been conducting have found it to a very useful manoeuvre, and one that they use commonly.
Liz:
Just another one coming through here. Stephanie's asked - or said - I am alarmed that useful reversing manoeuvres are to be dropped. We all need to be able to turn our car around. Reversing around a corner might seem over-formal, but we all use versions of it to turn our cars around or reverse into drives. What does Lesley have to say about it?
Lesley:
I think the previous question sort of address it, in the sense that if you are taught to reverse into a parking space and drive out of it, or drive forward in and reverse out, or parallel park, or any of those exercise, it does mean that you have to learn to control your car in a confined space, under control and with appropriate observation - so I see that all of those skills are transferrable, and that is in fact largely the feedback we've had from those instructors involved in the trial.
So, I think people need to realise the reason behind the change in manoeuvres, and it's not just about manoeuvres - it's about the fact that in focusing on reversing around a corner and a turn-in-the-road on the driving test, we have to spend a disproportionate amount of time in quiet sideroads, and that is not not where people have their crashes post-test. We want to extend the environment the candidates experience, and we can only do that by removing the need to spend too much time in quiet low-risk areas for the pure purpose of carrying out those manoeuvres.
Liz:
Ok, thanks. miDrive has asked if you think the new test will have an impact on driving test waiting times?
Lesley:
Well that's a bigger question really, I think it's about preparedness. I mean, the new test is designed that it will be accommodated within the current test slots, so in other words, examiners will be doing the same number of the new test as they do the current test, should it be implemented. And so if that means that candidates are better prepared, and therefore more likely to pass, then hopefully that in turn will address some of the waiting time issues, which is borne out of the fact that people have come back more than once to take a driving test.
Liz:
We're just waiting for some more to come through. Ok, someone's asking, which manoeuvres will be assessed in the new test?
Lesley:
We have 2 parking manoeuvres - that's either driving forward into a space and reversing out, or reversing into a space and driving out. There's also the parallel park on the side of the road, which is currently part of the current test. And the other manoeuvre is where we ask the candidate to judge when it's safe to move across to the right-hand side of the road, stop, reverse back for a short distance, and then rejoin the traffic safely.
Liz:
Ok, thank you. Ok, and how many people have responded to the consultation so far?
Lesley:
I think you've got the latest figures on that, haven't you? It's quite high as I recall.
Liz:
Let's have a look. Yes, 2,700 is the latest figure.
Lesley:
And that's a really positive outcome.
Liz:
Let's see if we have any more coming through from people that are watching and listening. There's one here. Just to say, if you do have a question, ask it in the app.
Lesley:
I think one of the good things with this is that we've had, to date, over 4,500 take part in this trial for the changes to the test. And that support from the ADI industry and the candidates themselves has really made this important. I mean, I appreciate that not everybody will agree with certain changes, and they'll have their reasons for that, and that's what we take into consideration. But ultimately, the research will decide whether these changes should be implemented or not. In other words, they will be evidence-based that has some benefits for us doing so. I can't expect that every single person will agree to these changes, but so far the vast majority are supportive.
Liz:
Ok, yeah. We've had another question, asking when it will be implemented, which I guess links to that.
Lesley:
Well it does link to that. I think… our hope is that if the consultation is successful and the research proves to be.. to provide the right outcomes, then our earliest possible implementation date would probably be early summer… late spring, early summer, next year.
Liz:
Ok, thanks. Another one coming through here. Someone asking should there be a night drive element to the test?
Lesley:
I think there are elements in the whole curriculum of people learning to drive that should be covered in training. Like any exam the driving test or exams that people take for any subject you can only actually assess a small part of that curriculum.
But I do think that where possible obviously the wider amount of experience they get in a wider a variety of traffic and road conditions can only be of benefit, and driving at night is a challenge in it's self and it is a high risk area for new drivers, so, clearly it would be recommended that that's covered in training as clearly we can't provide that in a testing environment.
Liz:
Yeah. Another question's asking erm, whether we should ask theory based questions during the practical test?
Lesley:
Well we used to many moons ago and I know there has been views that we could or should reintroduce some of that, but I think we're working hard now to update the theory test and also the hazard perception test. Erm, and I don't think that there is really time within the practical element to reintroduce theory test questions beyond what we propose for the safety question during the drive.
Liz:
Ok. Another question, what recommendations do you have for choosing an instructure, an instructor, sorry, in light of these changes?
Lesley:
Well I think it's a case of choosing an instructor whether it be now or in the future, I think that it's important that you take time to make sure that the instructor is the right sort of person for you. Erm, personal recommendation from others who have experienced erm, taking lessons from that individual is a good thing. We have a facility on our website that describes, erm, that gives you where your nearest instructor is and we are now encouraging instructors to post their grading. So, all instructors are graded and I think it would be beneficial for you to look at what that grade is and indeed look at any other services they offer that suit your particular needs.
Liz:
Ok, thank you. Erm, just have a look and see if some more are coming through, another one is coming through now. Erm, thinking about the show me, tell me questions, how do you think that asking a question on the move will work?
Lesley:
This is intended to demonstrate, to a candidate to receive instruction on how to deal with a distraction. So, at the point that we will ask a candidate to operate a specific element of car control is an everyday thing that people do when they are driving and the candidate will be given the choice of when that takes place. So, the approach will be, when you think it is safe to do so will you please demonstrate to how you would operate the demister or the rear windscreen washer or wiper and all that is just replicating what all new drivers do. You don't put those controls on when you're stationary, you're always doing them when their moving. So, I think it is important that people understand that properly and that certainly is an element of satellite navigation also.
Erm, I had a report from one, erm, person taking the trial who said that she'd happily watched her father operate, drive by satellite navigation and thought it was very easy. But, when she chose, when she was undergoing instruction herself she realised how distracting it was and she was glad that she received training before she passed her test. In order to make sure that she could drive safely and not be distracted by the use of satellite navigation, so that's a key reason why it's included in the test.
Liz:
That actually ties into the next question is, what about people who can't use sat nav safely, not everyone can?
Lesley:
I rest my case, really. I think it's important and far more beneficial for people be able to receive training and be confident in it's use then leave it to chance, because we know that over 50% of motorists rely on satellite navigation. So, clearly we need to move with the times and make sure that people can operate them safely and not get fixated on it or distract from their awareness of what's going on around.
Liz:
Yeah. So someone's asked, what about test centres that aren't near dual carriageways and major roads?
Lesley:
Well that, in most cases this has allowed us to extend the routes by some margin, approximately 2 miles per test route and that will allow us to bring in a lot more variety. We appreciate that the test centres around the country have different hazards and different challenges and therefore they will not all replicate one another but it's a question of the diversity of what we can include in the test to the advantage. Now, we hope to use faster roads, we hope to incorporate rural roads wherever we can, fully in the knowledge that they are the high risk areas for new drivers.
Liz:
Ok, erm and here you're being asked, will you be using public car parks like supermarkets for the parking exercises?
Lesley:
We have most definitely done that in the trial, but I think it's important that we plan our routes carefully and make use of erm, of much more than local supermarket car parks. I think there's a whole range of car parks that are available in use during the day time and it's some we're monitoring. We are looking to businesses to support it in the long term and because it's only one of several manoeuvres and we're using multiple locations we sincerely hope that people will support this initiative. Erm, as long as we don't interfere with various businesses in their own customer service environment.
Liz:
Which ties into the next one really, which is, you know, will the car parks be busy ones or ones with empty spaces around them and so on.
Lesley:
(Laughs). I mean this is going to be real life, so it'll be what it'll be, and some will be busier than others. But clearly we're not going to put people in positions where, you know, we're going to interrupt the general businesses that are going on around us, so similarly, we want it to be a real-life challenge. So I think, it's like different areas - some are busy, some are not so busy at different times of the day, so that's one that will be on its own merits.
Liz:
Ok, back to sat navs. Someone's pointed out different sat navs provide different terminology. Have you considered how this will affect the pupil?
Lesley:
Well we're going to have a standard sat nav, and I would agree - mine in my car is slightly different to others that I've heard, but I don't think that there's such a variation that should cause any confusion as to where you want to go. I mean, I appreciate that some give additional warnings, some put road names up on the screen, but I think fundamentally it's a fairly basic piece of kit that tells people where to go.
And let's remember that this isn't a navigation exercise, so if people go wrong with the route because of the instruction, then the whole purpose of that is that the satellite navigation will adjust the route and you follow it accordingly.
So I don't think people should get too hung up on the fact that it's always got to be the same. It's not that important - it's the management of it that's important in terms of road safety, not whether they can follow directions specifically.
Liz:
So just to confirm, someone's asked, will you supply the sat nav?
Lesley:
Yes, we will for test purposes.
Liz:
Ok.
Lesley:
There's one question that does keep coming up that I've seen elsewhere that might not be on that particular page and this is the issue of people being very upset about us encouraging people to drive forward into parking spaces.
And I accept that driving forward into a parking space isn't necessarily best practice, but it is more often than not, very practical to do in certain circumstances. So when you go for your shopping and other things, I think the vast majority of us - me included - will drive forward into a parking space so that I can load my vehicle from the boot, which I won't be able to do if I reverse into it.
So no, I fully support the fact that it isn't best practice, but it also can be taught to people to do it in a safe manner, because undoubtedly in today's driving, people will utilise that manoeuvre. And it is not dangerous - it is higher risk, and you have to know how to manage those risks.
Liz:
Ok, we've been asked, will these changes also affect the ADI's part 2 test.
Lesley:
Yes, that's the next step. We haven't focused on that at the moment, because this very much trying to bring in things that novice drivers need to overcome, so that is not going to affect the part 2 as is, but it may well do in the medium to short term.
Liz:
Ok, another question. Why are we taking out the basic learning blocks of driving?
Lesley:
Is that it?
Liz:
Yeah.
Lesley:
I don't know what that means, to be fair. I mean, the only thing we're taking out or changing, is perhaps some of the manoeuvres. And I think, we have to really understand the reasoning behind the changes, and it's not that I don't think, or we don't think, or those that supported these changes don't think that there's value in learning a turn-in-the-road, or if you want to reverse around a corner 6 inches from the kerb, then please do it in the training environment. Nobody's trying to dictate the way in which you prepare candidates for test.
What we're saying is these are the elements that we will test those skills, and it may be by one of four means in terms of manoeuvres. But they all test the same thing. They test people's ability to control the car at slow speed, it tests their ability to position it accurately, and it tests their ability to be aware of other traffic and the impact they might have on it. So in every case, that is what we're assessing in the manoeuvre. So how you do it or what manoeuvre you choose is not really the significance here. And I fully expect that during the training… early days of training, you may start a manoeuvre by teaching people to do the turn-in-the-road, because it's a fairly straightforward and easy manoeuvre.
Liz:
Ok, thanks. Back to sat navs. Where are you going to stick the sat nav in the car?
Lesley:
In a safe place! And again that's a good lesson for new drivers. It should be more or less in the centre of the screen, but at the lowest point you can access vision, so that it doesn't distract from driver. But in exceptional circumstances we're quite prepared to position it on the right-hand side of the driver if there's a specific request.
But we will now be using a matt for the satellite navigation equipment to sit on rather than having to stick it to the windscreen - that is a proposal that we're looking at within the trial.
Liz:
In terms of the parking manoeuvres, will these still be in the test centre car parks?
Lesley:
We can still use those facilities, yeah, but they won't always necessarily be there.
Liz:
Ok, well I'm afraid that we're now out of time. Thank you everyone for joining us.
And don't forget, you've got until Thursday 25 August to respond to the consultation. So please visit www.gov.uk/dvsa to take part.
So thank you from Lesley. And from me. Goodbye.