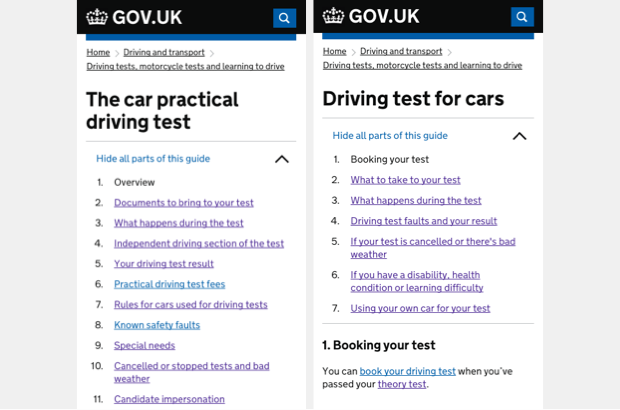 In this guest post, John Ploughman of the Government Digital Service talks about recent work that's been done to improve driving test information on the GOV.UK website.
Making changes to help people get things done
Until early December 2015, I worked at the Driver and Vehicle Standards Agency (DVSA). I'm now a content designer working at the Government Digital Service on the GOV.UK website.
In one of my first tasks here, I've been helping to improve the information about the driving test on GOV.UK. We want to make it as simple as possible for people to find the information and services they need.
I wanted to tell you a bit about what's changed and why.
Acting on feedback
We started by looking at feedback left by people who use the site using the 'Is there anything wrong with this page?' link at the bottom of each page.
We also looked at what people were searching for, and how they moved between the pages of the site.
So what did we find?
What people are searching for has changed
As you know, there's currently a longer wait to get a driving test than DVSA would like. They're working hard to reduce it.
So more learners are looking to change their test when they've got it booked. The page on GOV.UK and the websites that went before it have always been described as 'Change your driving test'. But people aren't searching for that any longer.
They are, of course, searching for 'earlier driving test' or something similar. And the appointments that do come up at short notice are sometimes known as 'cancellations', so that's a word being searched for too.
So we've changed the page at www.gov.uk/changedrivingtest to make it clearer that this is the service to use to find an earlier test (a 'cancellation'). It should mean that this page appears higher up in search engine results for people wanting to find an earlier test.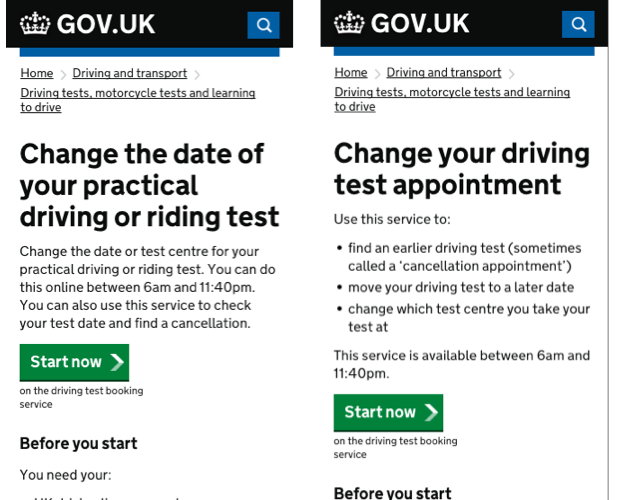 We found gaps in information and filled them
As we looked at how people were using GOV.UK, we found gaps in the information. Here are a couple of examples.
Upgrading an automatic licence
People were struggling to find information about upgrading an automatic car licence to a manual licence.
They weren't sure if they had to take another theory test, or how to book the driving test. And what happened if they failed their test in a manual? Could they carry on driving an automatic?
The information was all on GOV.UK, but scattered across separate pages. So we've published a new page about upgrading an automatic car driving licence to address all of these points in one place.
"I've deleted my booking confirmation"
As we looked at all of the data, we found people searching for what to do if they'd deleted their driving test booking confirmation email.
The page about changing your test did mention in passing that you could use the service to 'check your test date' – but that was about it.
So we've published a new page called check your driving test appointment details. We've made sure it'll be easy to find for people searching for deleted or lost booking confirmations. And we've made it clear that you don't need to bring the booking confirmation to your test.
A guide designed with mobile in mind
Just 3 years ago, 28.5% of people viewing the driving test guide were using a mobile phone or tablet. That's now at 62.0%.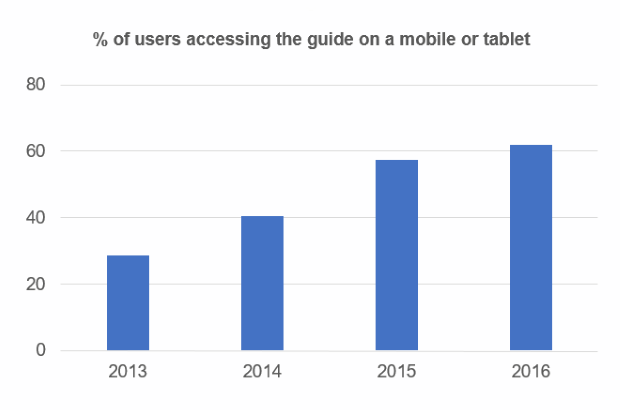 Making it work better for people on a mobile phone
It's not surprising that people reading the guide on a mobile phone use the guide differently to someone reading it on a PC.
So we've reorganised the guide to make it easier for the majority now reading on a mobile. We've gone from 11 individual pages to read through, down to 7.
So for example, the information about the independent driving section of the test is now with the rest of the information about what happens during the test.
Links that are simpler and clearer
Another big change we've made is improving the links for this latest version of the guide.
The driving test guide can now be found at www.gov.uk/driving-test. It's easy to read, and give out to someone.
It hasn't always been the case.
As an example, let's have a look at how the link to the page about what to take to your test has evolved over the last 6 years.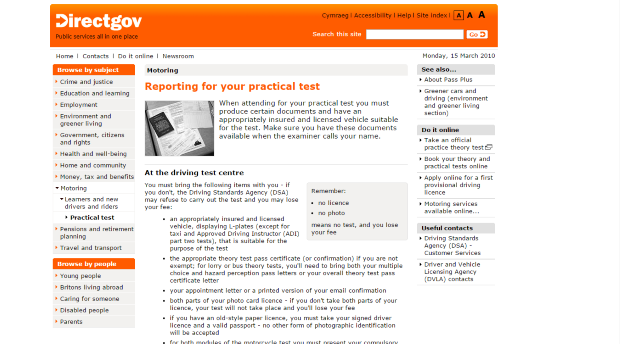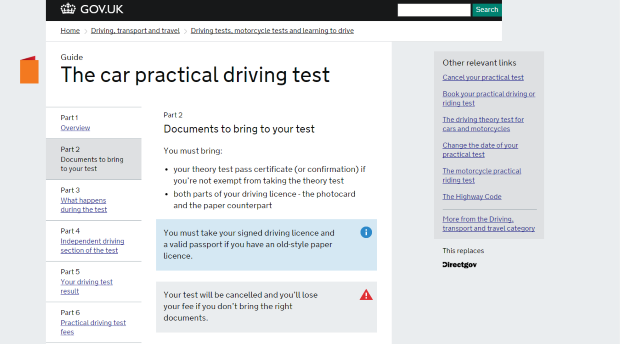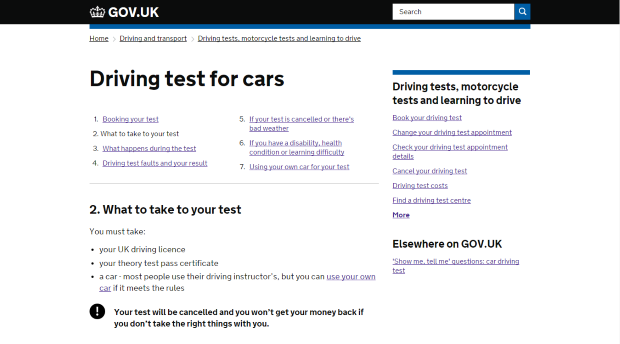 Thinking of linking?
We always encourage people to link to the official services and information on the GOV.UK website.
So if you have your own website, or just want to share the links on social media or write them down for your pupils, here are the most useful for the driving test.