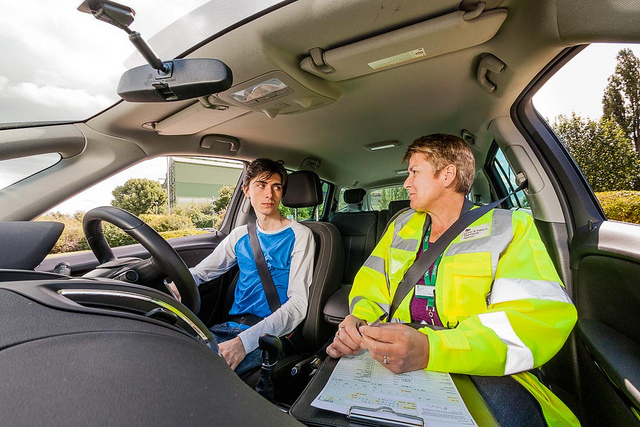 You may have noticed that waiting times for a driving test have gone up recently in some areas. We're working hard to bring waiting times down in those areas.
Here's what we're doing about it.
First things first
I want to apologise for the inconvenience increased waiting times cause. I know how important it is to be able to get a driving test within a reasonable amount of time.
There are 3 reasons why we've seen an increase in waiting times:
the economic recovery – more people are taking driving lessons again
we've had more examiners retiring
there has been a surge in people in their 20s taking tests, after leaving it longer to learn to drive
What the numbers show
We carried out 407,000 car driving tests between January and March 2015. That's up 5.2% on the same period last year and demand is increasing.
Find out more in the 'Driver and rider test and instructor statistics: January to March 2015'.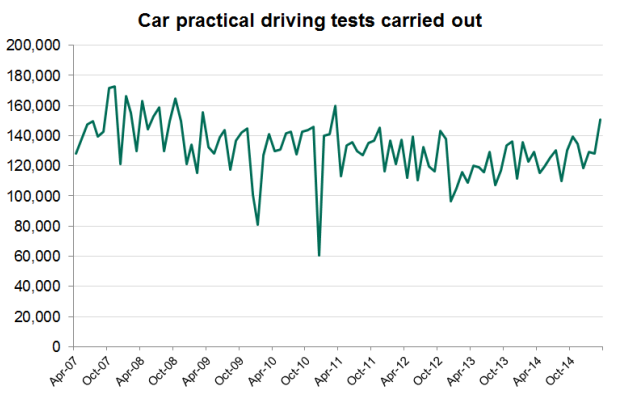 What we did to prepare
For the last couple of years demand has been fairly static, but late last year as part of our forecasting for our yearly business plan we predicted an increase in demand for driving tests.
We also knew that an increasing number of our examiners were at or approaching retirement.
So, we started a nationwide search for new driving examiners in October 2014. As you can imagine however, this is a lengthy process and not always a successful one. So, we ran another campaign in March and are currently running another with a further one planned for October.
In the meantime, our team that manages where driving examiners are working has been:
monitoring waiting times and future demands
making sure driving examiners are working in the areas they're needed the most
training more examiners in other test categories to meet local needs better
changing local working patterns to improve service
encouraging examiners to work additional hours in order to provide more tests
Who'd want to be a driving examiner?
Over 2,500 people, it turns out. That's how many applied for the jobs we've advertised in the last 12 months.
The applicants must get through the stages below before they become an examiner.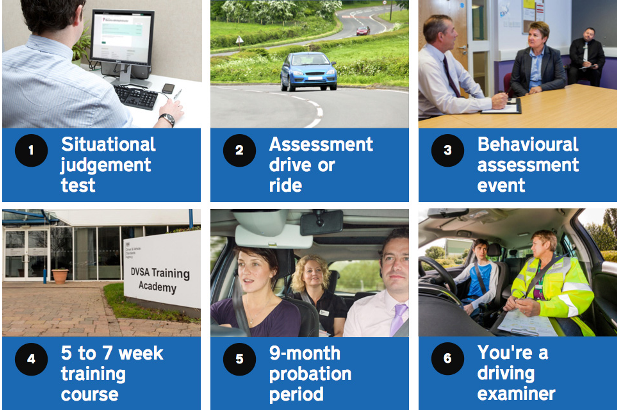 You can find out more about how it works in our guide to becoming a driving examiner.
Getting the right person
The recruitment process is somewhat lengthy. But that's because finding the right people takes time. Not everyone who applies is right for the job.
It's important that we assess candidates thoroughly and give them the right training. This lasts from 5 to 7 weeks, and can be quite intense. Staying away from home for weeks at a time can be hard. We know that this has put some people off applying in the past, so we've changed how it works.
We've broken the training down into chunks. You now do some of it from:
a regional office
the DVSA training academy at Cardington
your local driving test centre
It means people now spend less time away from home and it's helped us to attract wider range of applicants.
New faces
Some of you may have already seen some new faces around your local test centre. If you haven't yet, I'm sure you will soon.
Since April, 66 new examiners have started at test centres across Great Britain.  We have also offered a further 89 people posts and they are currently on the new entrant training course or waiting to attend it.
I hope that, once in post, these new examiners will help us continue to reduce waiting times. We aim to offer tests within 6 weeks by early next year.
In the meantime, thank you for your patience.
To stay up to date: