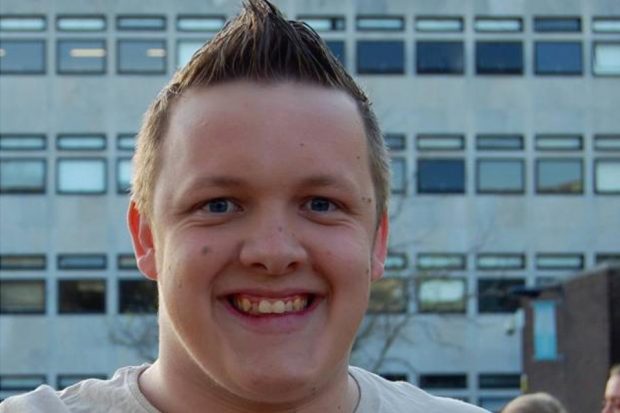 This is a guest blog post from Ria Brisland. Ria has been campaigning since 2018, for better education for all road users on the vulnerabilities faced by motorcyclists.
This is her story.
---
On Friday 24 April 2015, I received a phone call that changed my life forever.
It was the day I learned my eldest son, Nick, had been killed in a motorcycle accident.
When something as tragic as this happens, the agony of it is suffocating.
Nothing makes sense anymore.
Carrying on
Eventually I had to make a choice to try to carry on with my life as best as I could.
I am still learning how to do this.
No parent should ever have to endure the pain of losing their child.
The way in which my son was killed could have been avoided.
And that fact will haunt me forever.
Educating people about the dangers faced by vulnerable road users
Almost 3 years later in February 2018 after much deliberation in how to stop this happening to another rider on the road, I decided to start a petition to the Transport Secretary and the DVSA with hope of initially try to change the theory test.
My aim was, and still is, to educate people, especially young people in their key stages of learning, in why vulnerable road users behave differently on the road and how to spot them.
This is to help breed a new generation of drivers.
Statistically most bike fatalities are because the driver doesn't actually see the rider on the road.
If we all take responsibility not just for ourselves but for keeping each other safe this will result in fewer deaths.
Petitioning for safer roads
After just a few short weeks the petition for safer roads through change.org grew to a phenomenal size.
It gained thousands and thousands of signatures daily.
I remember watching it grow and being in awe of how far and wide it had spread, thinking, how incredible it was that people felt as passionate about what I was trying to achieve as I did.
65,000 people signed it in one day alone.
I received emails daily from people who had lost their loved ones in a similar way to the way I lost my son.
It was then I knew I had started something quite special and together we were going to make a difference.
Just a few short weeks into the Petition's success after various radio, television interviews and some help from my local MP Royston Smith I received an email from the Transport Secretary Chris Grayling.
Meeting with DVSA
I was invited to meet with chief driving examiner Mark Winn and his team.
I went to visit the DVSA at one of their headquarters in Cardington in July 2018.
I felt completely welcomed by Mark and his team.
I was congratulated for standing up and making a difference, with kind words of condolence for myself and my family.
We sat down for a long time thrashing out ideas of how to make this happen.
I left that day feeling like my ideas had been valued and listened to with a plan for the future to visit them again in Nottingham and see the finished result.
In February 2019 I met with the DVSA again.
I was so pleased and amazed with the finished result.
Breaking the stigma
I feel very fortunate, in a very unfortunate situation, that I was taken seriously and I'm proud to be working closely with the DVSA for the foreseeable future coming up with new ideas of how to keep everyone safe.
I want to break the stigma against bikers and remind people it's the human behind the engine that makes the difference.
We all have a duty to each other on the road!
Regardless of age, the driver in front of you is somebody's child.
---
Since Ria met with us, we've created several new hazard perception clips which include motorcycle riders. These will be used in our learning materials and on social media.
Can you spot the rider? Could your pupils?
Tips for your pupils
 As ADIs your experience and knowledge of the road will be vast, but your pupils won't be.
Here are some good tips to teach your pupils, to help them remember to always look out for vulnerable road users like motorcyclists.
When turning - look, look and look again
A motorcyclist may not be immediately obvious at a junction. They could be behind the oncoming car you are about to turn in front of and they may be attempting to overtake that car. It is so important to always look and look again, to make sure it is clear to turn.
Always check your blind spots
Motorcyclists can be hard to see especially in blind spots created by pillars or when looking into the sun. Always think about your blind spot and check for motorbikes when you're changing lanes or at a roundabout, as a motorcyclist could be in the space you are trying to move into, or they could be approaching that area at speed.
Keep a safe distance
Make sure that you keep a safe distance between yourself and any motorcyclists. Driving too close can intimidate less experienced motorcyclists and increase the likelihood of an accident.
Double check on manoeuvres
Remember that motorcyclists could be on either side of you. Whether you're turning left or right, make sure to double check all around your car for any motorcyclists that could be nearby. Also be aware that parked cars, or larger cars and lorries, could be blocking your view of a motorcyclist.
Always be aware
Keep thinking about motorcyclists once you've parked. Make sure you check for them before you open your car doors, and make sure that your passengers do the same. When you drive off, look specifically for motorbikes as they can accelerate faster than cars.
Ria's message for everyone is clear, we all have a duty of care and responsibility to everyone on the road. Your actions could massively affect someone else's life so easily.