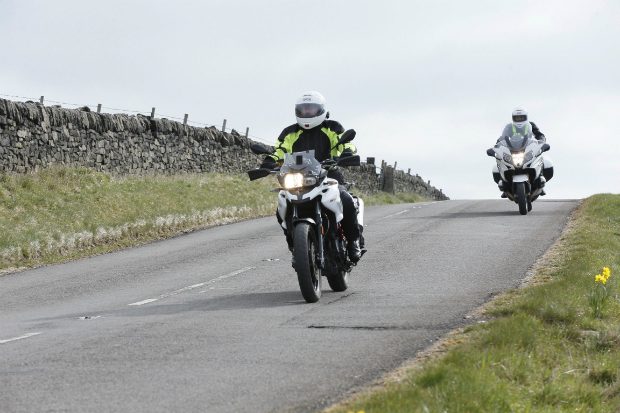 Simon Hayes owns RMT Training School, an Approved Training Body (ATB). He's written this blog to tell us about his experiences delivering DVSA's Enhanced Rider Scheme.
Despite the DVSA enhanced rider scheme (ERS) being well received by the motorcycle training industry, many training schools still do not have qualified instructors.
I think this is a shame, as delivering ERS training comes with benefits, as my ATB has found.
Have you thought about offering ERS too?
How we've found ERS
We've been offering ERS since it was first introduced. Our trainers enjoy the prospect of teaching at a higher level, as it gives variety in their work schedule. They could be teaching CBT one day and advanced training (ERS) the next.
I imagine work can become boring or monotonous at times in any profession, but being able to deliver different levels of training means trainers enjoy variety in their role, improving the customer experience and bringing value to their ATB.
Being able to deliver the DVSA Enhanced Rider Scheme means we do not say goodbye after a motorcyclist has taken their test. It is a chance to promote further education that will positively impact their biking ability and prepare riders for a safer future.
Delivering post-test training comes at a lower cost than learner training, which makes good financial sense for the business too. Customers use their own bikes, insurance and fuel, which keeps costs down. Obviously, the work is rewarding and safety is a priority, but increased profit margins are a nice extra!
Rider safety is key
Just because a learner rider has passed their motorcycle test, does not mean they are as prepared as they could be for the type of riding they will be undertaking in future. Being able to deliver further education in the form of advanced guidance reinforces our ongoing commitment to road safety, which is satisfying.
Statistics show that post-test riders fall into a vulnerable category, in many cases out on a country road when either cornering or overtaking. This is because inexperienced riders may make errors in judgement when faced with the tricky situations these roads can present, after only just completing the basic motorcycle test.
The revamped DVSA Enhanced Rider Scheme targets this vulnerable category of riders, with a revamped syllabus to make it easier for trainers to target key areas, to improve rider safety.
Establishing ERS as the norm
In many cases learners who have just passed their test get a handshake from the ATB and are never seen again. Module 1 and 2 tests are seen by riders as the final hurdle, but we don't think this is the right way to go.
If we can present ERS to all learner riders as a necessary stepping-stone to further training, they will be encouraged to develop new skills. Once they take further education and start to improve their ability, riders could return many times and enjoy improving their riding skills still further.
Tailoring training
New training programs can be designed and implemented to add value to the ERS package. The training does not have to be completed as a 1-day programme, but can be delivered over a few days. This allows customers to have a say on the skills they wish to develop, it reinforces good riding techniques, and it develops consistency, demonstrating that learning has taken place.
For riders who want to continue improving their skills, there is an opportunity to signpost them to other types of education. They could be encouraged to do courses, such as Biker Down, to learn how to deal with the scene of an accident and give basic first aid.
The learning does not stop there. They could also be signposted to learning in alternative environments, to learn new skills that will undoubtedly give them more confidence and knowledge. In turn, this could lead them back to the professional training sector (local ATB), who can give further training and bring customers up to advanced test standard.
To find out how to become an ERS trainer visit www.gov.uk/dvsa-enhanced-rider-scheme-trainer