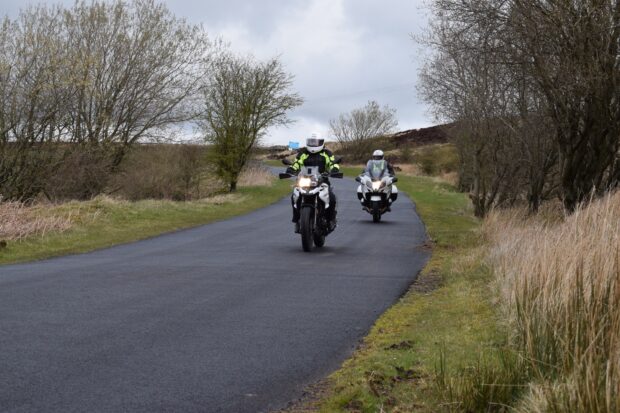 Are you looking forward to an eggs-cellent Easter weekend? We certainly are!
Whether your pupils are dusting their bikes off for spring or have been riding all winter, it's important to make sure their bike's in good nick. We thought it was a good time to remind you of some basic safety checks you can pass on to them before they get back on the road.
How are those tyres looking?
Even if a bike hasn't been sat in the garage for the past few months, it's always a good idea to give it a check over before taking it out.
Is there anything loose or a big puddle of oil underneath it? How are the tyres looking? Are all the lights and indicators still working?
If there's time, it's a good idea to check its chain, steering and suspension. The chain should be the correct tension, not too slack. Make sure the handlebars are free to move smoothly and remember to give the brakes a quick squeeze before heading out.
These checks shouldn't take more than a couple of minutes and will help make sure the bike's safe when it's out on the road.
You've got the P.O.W.E.R
The POWER acronym is a good way to remember the essential checks riders need to carry out before setting off. It stands for:
Petrol – does the bike have enough - does it need filling up?
Oil – check your oil level is okay before riding
Water – for both rider and bike!
Electrics – are all lights and signals working properly?
Rubber –  tyres are the only point of contact with the road, make sure they're in good condition
Gloves, helmet and boots
So, the bike's looking good, but what about kit?
Can they remember the last time they changed their helmet? Like all good things, they do have a shelf life.
Have a quick look inside the helmet's lining - there should be a date showing when it was made. We'd recommend changing helmet every 3 years for regular riders, or sooner if it's been dropped.
It's important to wear the right clothing however short the journey might be, even when it's sunny out.
Motorcycle riders should always wear a good pair of gloves, jacket and trousers and make sure they have a bit of protection built in. To see how important proper gear is, check out Highways England's video on the cost of riding without protective clothing.
What are your skills like?
OK, so they have the kit and their bike's in good condition, but hang on a minute – when was the last time they had their own riding checked out? Investing in yourself is just as important as your bike and kit.
Even riders with many years of experience need to refresh their riding skills after a few months out of the saddle. If it's been a couple of months(or more), they may well be rusty.
You should encourage your pupils to take the time to get reacquainted with their motorcycle before heading out on a long journey. They might not be at the same standard they were at the end of last season - all the more reason to get out and practise more!
Taking an advanced training course
Another way of improving riding skills might be going out with a friend. You may also want to point your pupils towards an advanced riding course.
DVSA's Enhanced Rider Scheme covers everything from cornering and bends through to overtaking and filtering safely.
The training day starts with a chat about their riding, closely followed by an assessment ride. Once that's all done and dusted, they can work on any development they might need with their trainer.
Read our enhanced rider scheme syllabus to find out more
Happy riding, I hope you and your pupils have a great Easter!