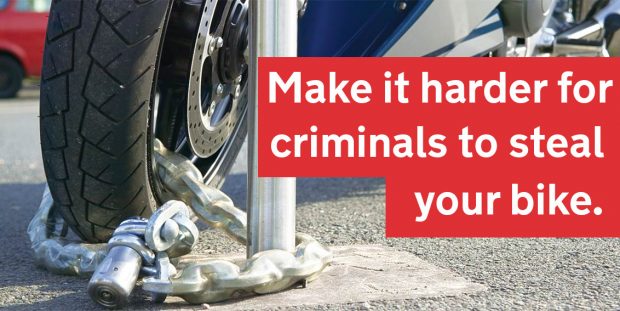 As a motorcycle rider myself, I know how devastating it can be to have your motorcycle stolen or damaged. It can impact your job, cost you time and money to replace, and affect your livelihood.
Earlier this year the Metropolitan Police launched a campaign to advise riders on how to keep their scooters safe, by using things like security chains when locking up your bike. I wanted to share some of their messages with you so you can help your pupils keep their motorcycle safe and secure.
Snatch and grab robberies and other crime
Last year 15,000 motorcycles, mopeds and scooters were stolen in London alone – this is half of all vehicles stolen in London!
Many of these vehicles get used for other crimes such as snatch and grab robberies or as getaway vehicles in other crimes.
The video shows just how easy it can be to steal a moped or scooter and, the Met Police are concerned this could spread to other towns and cities across Great Britain.
To help prevent these crimes happening, I'd like to ask for your help in explaining the importance of keeping your scooter safe and secure to new riders.
I know many instructors cover types of security when they're teaching CBT and I'd encourage you to do this. New riders rely on their instructors for all sorts of advice, including how to keep your scooter safe.
How can you help?
To help new riders keep their motorcycle safe, the Met police have put together some tips to help prevent these crimes happening. I'd like to ask you to share these with your pupils and other riders.
Park in a public area
You should choose a designated parking space, rather than street parking if possible. A good way to find safe motorcycle parking is to use ParkSafe.
It lets you search for car parks around your location that have been awarded a Park Mark. A Park Mark is given car parks that have low crime and measures in place to make sure vehicles parked there are safe.
But, if there's no designated parking nearby, you should try areas with lots of people, good lighting and CCTV. Thieves are less likely to target motorcycles that are in public places, where they might be recorded.
Use a lock and an alarm
You should always use more than one lock when leaving your motorcycle somewhere. And, you should use disc locks and chain locks as these are fitted tight to the bike and through difficult-to-remove parts. You should also try to make sure the lock is up off the ground – it makes it harder for thieves to cut away.  
Another tip to remember is to check if your lock is insurance approved. Some companies will offer discounts on your insurance if you use approved locks or security devices.  So, you should always ask before you buy your insurance.
Another way to keep your bike safe is using alarms. If your bike is targeted, a loud alarm will draw unwanted attention to thieves and could help stop them stealing your bike.
Think about how long you'll be leaving your motorcycle
When you park your motorcycle, you should think about long you'll be leaving it. If it's for a long time or overnight, you should lock it to something secure and use a motorbike cover, as well as the normal disc and chain locks.
If you leave your bike at home, you should use ground anchors to secure your bike.
Mark your motorcycle
Marking your bike parts with the vehicle identification number (VIN) number, your postcode, or registration number is a good way to keep your bike safe. If your bike is stolen, it's a lot easier to trace back to you if you can give the police any marking numbers on your bike.
I hope you'll pass these simple tips onto your pupils, to help them keep their bike safe and secure, and help reduce the number of motorcycles stolen. If you've got any other good security tips to share, please leave them in the comments.