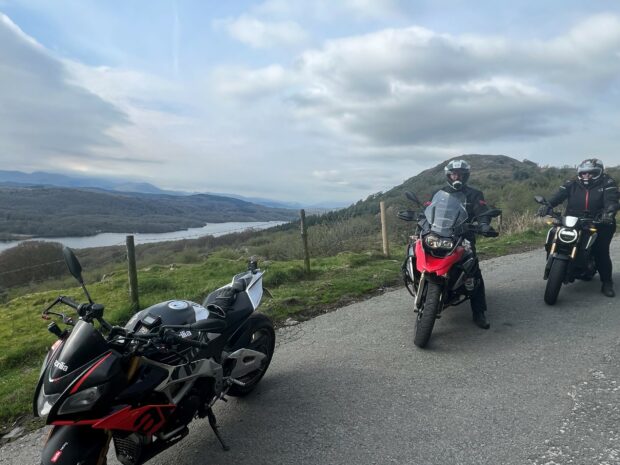 As part of our commitment to a lifetime of safe riding, we want to encourage people who have passed their full test to keep improving their riding skills and knowledge.  
DVSA's Enhanced Rider Scheme (ERS) is a great way for riders to continue the develop of their skills in environments they don't ride in day to day. 
Mark Jaffe - Phoenix Motorcycle Training
Mark Jaffe of Phoenix Motorcycle Training has been delivering ERS training in London for over a decade. The school actively promotes ERS training to pupils as a gateway into developing new skills. He says: 
We get a real mix of people doing ERS training. What they have in common is that they enjoy their riding and want to keep improving their skills.

"Mostly, they're mature people who mainly use their motorcycles to get around the city and commute day to day. They're not wannabe racers.
Many of Mark's ERS pupils are familiar with the challenges of riding safely in a city, however, they're not so confident riding in unfamiliar surroundings.
To change this, Mark takes them out on training rides to Kent and Sussex to develop the forward vision, planning skills and motorcycle control they need to ride safely and successfully on narrow, twisting country roads. He says: 
Seeing our pupils' confidence and enjoyment grow as they tackle new challenges, like country roads or riding on gravel, is deeply satisfying.

We are motorcycle trainers because we love to ride and want to improve road safety through training. Being an ERS trainer has given me the opportunity to share this passion, and the full range of my knowledge, with hundreds of pupils. It's a great experience.
Mark and his colleagues at Phoenix do the ERS course once a year themselves as a refresher. They find that teaching the wide variety of skills involved in ERS helps keeps their own skills and motivation fresh.
Mike Desmond - Practical Bike Training
Practical Bike Training, based in Morecambe, Lancashire close to the Lake District and the Pennines. The business has been running for 13 years.  
Mike Desmond has been a motorcycle trainer for three years and is in his second year of delivering ERS training. Like Mark, he actively promotes ERS to pupils as a way of developing skills that will enable them to ride safely and with confidence on the most challenging of roads. He says: 
We get a wide range of people signing up to do ERS training. Some are in their early twenties, some in their fifties. A high proportion ride powerful sports bikes in their leisure time. They want to make the most of the varied riding opportunities available in the North West.
For Mike, the small group format of ERS training enables him to tailor training to suit his pupils' needs. He finds it a particularly effective way to build the skills that will enable them to enjoy the thrills of riding a high-performance bike without compromising safety:
One of the key things for our pupils is mastering bike handling on bends and in corners and we spend a lot of time on this. It's critical if you want to ride twisty mountain roads or narrow lanes safely, especially in poor weather conditions.
He believes that the skills people learn in ERS training build their confidence to take on new challenges successfully. He also finds that it deepens their enjoyment and appreciation of riding. Like Mark, he feels he gets as much out of teaching ERS as his pupils: 
 Passing on my knowledge and skills to people who love riding is a joy. I want them to get the same excitement and thrills from riding that I do while staying safe. ERS is a brilliant way to develop the skills and mindset it takes to get that balanced perspective.
You can find out more about ERS and how to become an ERS trainer here:  Take the DVSA enhanced rider scheme assessment and training - GOV.UK (www.gov.uk)