You might have seen that we recently launched a campaign taking a zero-tolerance approach to abuse towards our staff.
And, one of the most common types of abuse our examiners face is from candidates taking their driving test.
I'm a driving examiner, and I experienced a verbal assault and threatening behaviour at work. I'm sharing my story, anonymously, to help you understand what it's like to be on the receiving end.
It started as a normal day
During a normal working week, and what seemed like an average day, as usual I took a candidate out on a driving test.
We began the independent driving section of a test, which involved following signs. The candidate was required to turn right, third exit.
He approached the roundabout in the left lane, and as we emerged he said to me "I don't know where the f**k I'm going".
I told him that we were turning right, third exit, repeating the sign that he was following, but told him to do what he thought best. He did turn right, from the left lane.
We came up to the next roundabout, which was also a large roundabout, with large directional signs. Once again he positioned on the left, for a right turn.
As we emerged on to the roundabout he said "I don't know where the f***k I'm going you f*****g b***h, you're supposed to give me directions."
I repeated to him that we were turning right, third exit, and to follow the signs. At this point, he accelerated harshly to join a dual carriageway.
"I'll show you who's the clever one"
He began erratically steering from the left to the right saying, "You think you're so f*****g clever, I'll show you who's the clever one."
He steered across the solid hatching, directly into the first lane of a busy 3-lane dual carriageway. It caused the car in that lane to swerve sharply to the right to avoid us.
He then resumed the erratic steering, swerving across all 3 lanes of dual carriageway, screaming at me "Not so f*****g clever now, are you?".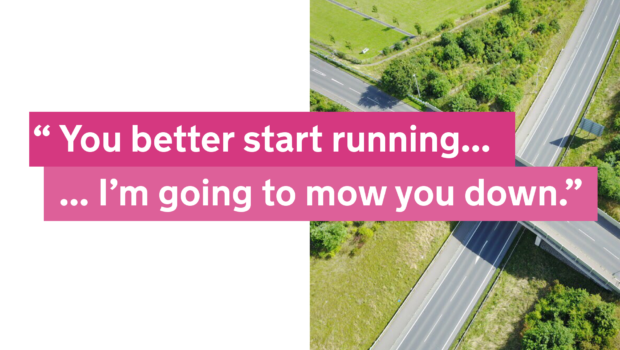 As our vehicle was dual controlled I waited until we were in lane one, and used the dual brake and pulled the car over.
I got out of the car, and he screamed at me, "You better start running then b***h, because I'm going to mow you down".
I told him that if he moved the car that I'd phone the police.
Luckily, near where we had stopped there was a bridge which had a crash barrier in front of it. I stood behind that and rang my test centre manager, who came out and got me.
How it affected me
My manager took my next test out for me, to give me some time and I filled in an incident report. The candidate also received a letter to tell him that his behaviour had been unacceptable.
I later learned that he had written to complain that I had scared him by leaving him on the dual carriageway. I remained entirely professional, staying calm throughout the test, and I didn't even raise my voice during the incident.
I'd been an examiner for about 8 years at that time, but this was the first time that anything like this had ever happened to me, and it really shook me up. For 2 weeks after I felt really uncomfortable when we approached dual carriageways, and for a good 6 months I didn't feel the same about the job.
Don't take it out on our staff
Following an increase in incidents like this, we're now working with the police and other organisations to make sure the full extent of the law is used when our staff are assaulted or abused at work.
This now means that abusive candidates can be banned from test centres, forced to have an extra member of staff in the car on tests or charges brought against them for criminal prosecution.
We hope by sharing this story with you, you'll understand how behaviour like this can affect our staff.
Make sure you're signed up for email alerts, or follow us on Twitter and Facebook for the latest updates about the service.