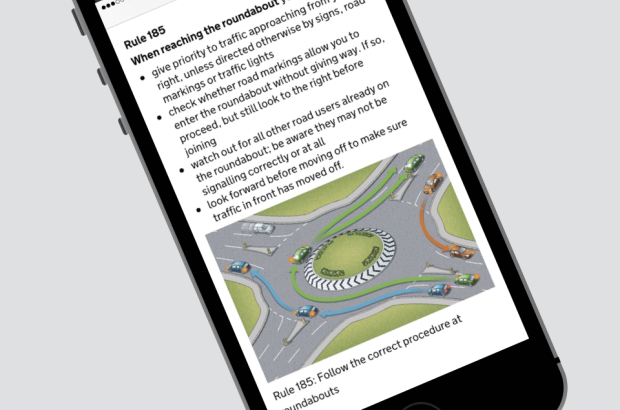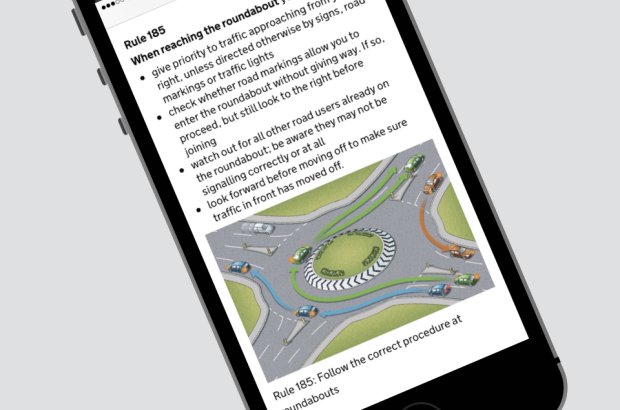 We've listened to users and made The Highway Code easier to use and share from GOV.UK. This will improve people's knowledge and change their behaviour on the road for the better and, hopefully, for life.
We published a news story about this earlier today. But I wanted to share some more detail with you.
The improvements we've made
Here are 7 ways that it's now easier and better to use The Highway Code on GOV.UK.
1. Search the code
You can search within The Highway Code for the first time. Until now, when you searched, it searched all of GOV.UK.
2. Link from one rule to another
Some rules reference other rules. Now you can click on them and be taken directly to that rule, rather than just the section it lives in.
3. Direct links to the law
The MUST and MUST NOT rules are based on laws. We've linked all these up, so you can now go and read the detailed regulations on the legislation.gov.uk website.
4. Law abbreviations explained
All the laws referenced in The Highway Code have acronyms. Now, when you hover over these, the full name of the legislation appears. For example, hover over 'MT(E&W)R' and it displays 'Motorways Traffic (England & Wales) Regulations'.
5. A list of updates
For the first time, there's now a list of the updates that have been made to The Highway Code. Now you can see what changed and when.
6. Better quality images
We've put larger and clearer versions of the images into The Highway Code. They're still the same images, but now look much better.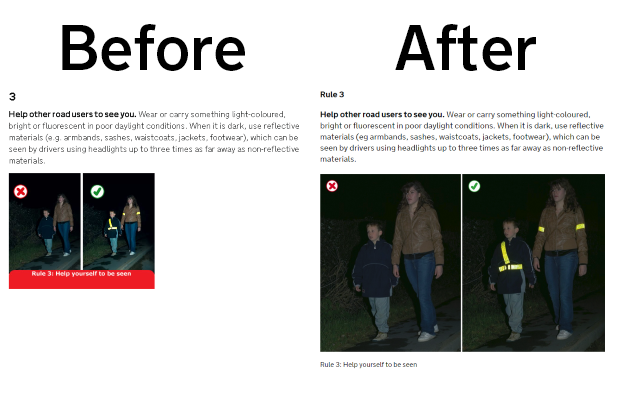 7. Signs, signals and markings
You can now browse images of things like light signals controlling traffic, traffic signs, road markings and vehicle markings on web pages. Until now, you had to download a PDF to see them. There's still a PDF to download and print, though.
Getting people to follow the code
Getting The Highway Code from the page to the road is a challenge we all share.
We know that as soon as the L-plate hits the bin or the job as a driver is secured, few keep up with changes to the code or refresh their memories.
Working in Cardington, I hear the fears that many of you express. Once your contact as someone's instructor or a trainer ends, their habits could change and their safety could be at risk.
That's why we introduced more ways to stay up to date in 2011, using things like email alerts, Facebook and Twitter.
Reminding people changes behaviour
Last year we did some research to make sure this was working. The results were very clear. By using these services:
4 in 5 people improved their knowledge
3 in 5 people have used the road differently
Nearly all users would recommend the services to family and friends
With over 50,000 Twitter followers, 38,000 Facebook fans and 41,000 email subscribers, that's really good news.
We know that many of these people are there because you've been promoting these services over the past 4 years. Thank you for that.
So now I have a plea for you. Keep promoting these services and explain the difference they can make. If you've not used them before, give them a try. Encourage your friends and family to take a look.
We'll carry on improving
We'll continue making more improvements to make it easier to use The Highway Code on GOV.UK. We'll do the same for our reminder and update services.
I'd like to hear how you've been using these, and what you think we can do to make them even better.
To stay up to date: